WELCOME!! ^_^
Please feel free to browse around on my fan art page! I made a ton of stuff!!
Challenges
I been accepting Challenges from people and friends for me to draw a centain character. So here is one of them
Gore Challenge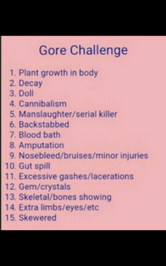 This challenge involves me to draw one of the characters but in a gorey way. 
MLP stuff and crap like that
Apparently, i'm getting better of using MLP bases, so i will post some new MLP pictures and abandoned the old MLP blog  that i made like months/years/weeks ago.. and show what i had been making!
Endventures Creepypasta cross-overs
I made a few of them on my DA http://ilovenobraynes.deviantart.com/ <<< so make sure you go and stop by, and have a look :)
Gender-swaps (Genderbends)
The name says it all xD
Edited pictures
Some very funny pictures i edited! I hope they make you laugh!! (Some are edited by my friends xD)
Comic dubs
I'll be posting them here!